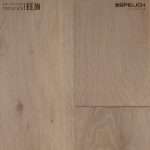 Our naturals collection encapsulates the rustic and aged charm of a truly authentic antique wooden floor, These floors are made to order using modern materials and construction methods to meet the most demanding building specifications.
Available in wide boards and parquet, this range rich coloured flooring is specifically suited to historic buildings or warehouse conversions, but can equally serve as a statement floor in any modern setting.
The grain is enhanced by both surface planing and soft brushing, adding to the authenticity of these aged floors. Loved by designers and architectural specialists these create a striking look suitable for
both heritage and contemporary interiors. Available in two thicknesses of engineered boards in plank, herringbone or chevron.
| Product Information | |
| --- | --- |
| Platform: | WBP – Birch plywood (CARB compliant) |
| Wood Species: | European Oak |
| Grades: | Rustic, Light Character, Select/ Bis and Prime (on request) |
| Texture: | soft brushed surface |
| Bevel: | 2 or 4 sides micro bevel |
| Finish: | Van Speijck Hybrid, oxidative finish |
| Color aging: | under influence of UV light the color gets slightly lighter after a period of time |
| Color variation: | Colors used for this collection will have a certain degree of color variation from board to board. Please look at the images below to get an impression of the color variation that can be expected in your specific grade. |

Structure:

Structure:
12 mm = 3 mm wearlayer + 9 mm Birch plywood
14 mm = 4 mm wearlayer + 10 mm Birch plywood
16 mm = 4 mm wearlayer + 12 mm Birch plywood
19 mm = 4 mm wearlayer + 15 mm Birch plywood
21 mm = 6 mm wearlayer + 15 mm Birch plywood
FSC:
We can supply FSC certified Oak on request. We are registered with certificate nr: NC-COC-029615-IZ
Recommended usage:
Normal: Residential, Commercial, Hospitality and Retail.
Heavy: Commercial, Hospitality and Retail, please inquire, a heavy traffic finish need to be applied.

thickness

width

Plank-project/builder
600mm-2200mm
12mm-19mm-21 mm
180mm-220mm
Plank - premium
1500 mm - 2950 mm
16 mm
180 mm - 220 mm - 240 mm - 260 mm
19 mm - 21 mm
180 mm - 220 mm - 240 mm - 260 mm - 280 mm
Herringbone / Chevron
14 mm
120 mm x 600 mm
16 mm - 19 mm - 21 mm
100 mm x 500 mm - 120 mm x 600 mm - 180 mm x 1000 mm
Panel
On Request